"We collectively judged her for bringing her voice down as if she's lying to us. But you're not being untruthful because you're deepening your voice. She needed it."
The one thing people think of when they hear the name Elizabeth Holmes, the disgraced biotechnology entrepreneur convicted of fraud, is her voice, which Holmes artificially made lower. "We collectively judged her for bringing her voice down as if she's lying to us," says Oscar-nominated actress Amanda Seyfried, who plays Holmes in the new Hulu drama series The Dropout (March 3). "But you're not being untruthful because you're deepening your voice. She needed it. It wasn't just the fact that she was a charismatic genius and ambitious. It was that she had to present herself in a specific way." One thing Seyfried did focus on was all the material about Holmes at her disposal. "I didn't have anything of her real life, but I had 10 hours of depositions. I had the interviews and then I had the one when things had come crashing down. All of a sudden I became this eager college student." In the end, she came to realize Holmes was more nuanced than she's made out to be. "She was very passionate and very ambitious. She truly believed she was gonna get there. She was going too fast."
I'd imagine playing someone currently in the news is daunting. What inspired you to take this role?
I'm a mimic. I'm never gonna be her. But the trick is always to get the audience to believe that you are her very soon into the show, then they forget about what she really looks like. But oh, God, it was so much fun. In the first episode, I got to do the deposition stuff. This is what I've been studying for this whole time. I can actually mimic the scene. I've never gotten to do that before. Maybe slightly with Lovelace. But it was amazing.
Her voice is so specific. Did you stress at all about finding it?
Yeah, it's the only thing you hear about. I started talking to [director] Michael Showalter and [showrunner] Elizabeth Meriwether about it, and it's just gonna have to be one of those things where we can't worry so much about it. I'm not gonna sound like me. Her accent, roundedness; her mouth is shaped differently. She speaks from a different place in her mouth, and maybe that's an accent or a regional accent, or maybe that's an effect, whatever it is, there's no judgment, I'm going to try to mimic it. And then when it comes to the depth, because there were two parts to her voice, we're just going to go try different levels. I worked with my singing coach because I have a pretty high voice; it's just an average female voice—I'm a little bit up and she's much further down.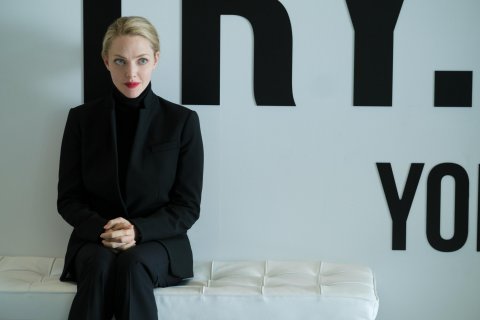 Hulu's limited series "The Dropout," the story of Elizabeth Holmes (Amanda Seyfried) and Theranos is an unbelievable tale of ambition and fame gone terribly wrong. How did the world's youngest self-made female billionaire lose it all in the blink of an eye? Elizabeth Holmes (Amanda Seyfried), shown. Beth Dubber/Hulu
Do you think she lowered her voice to be taken seriously?
We collectively judged her for bringing her voice down as if she's lying to us. But you're not being untruthful because you're deepening your voice. She needed it. Look where she got and look who she got behind her. It wasn't just the fact that she was charismatic genius and ambitious. It was that she had to present herself in a specific way.
The facts of the case are confusing. How do you think the show explains it in layman's terms?
I was reading the scripts and I'm like, "I'm still unsure." By the time I got to episode six, I'm still unsure what exactly she was going down for. And that's good, because I'm playing her. But it felt like I was still a little bit at sea when I was reading this script. You talk to enough people, by the time you're on set, you're like, "Oh, she shouldn't have done that." She was very passionate and very ambitious. She truly believed she was gonna get there. She was going too fast. She could have gotten out of it. I just think it's nuanced in a lot of ways. I think everybody's going to have differing opinions by the time they're finished with the show.
You also produced The Dropout. What is it about a project that moves you to want to produce it?
This was presented to me and I wanted to get my hands on it and I wanted to have some control. I wanted to have creative input because I really cared about it and I really liked the people involved.
It's been 10 years since Les Misérables was released. Do you think you'll do another musical?
I will sing until I'm dead. I take voice lessons twice a week. There are always things that come up and then they don't happen. But I will. I will.
Is there a musical part you're dying to play?
I always wanted to sing Eva Cassidy songs because her life was just so short. Nobody really knows enough about her and then she died tragically. She had a beautiful voice and she did the most beautiful covers.
Listen to the full conversation on Newsweek's The Parting Shot Podcast. Available on Apple Podcasts, Spotify, or wherever you listen to podcasts. New episodes every Friday.
(Visited 1 times, 1 visits today)